Many professionals in marketing know that to tie science and practice is not simple. Camila Rocca, who is an experienced Vice-President of Communication and Marketing and Senior Director of Product Marketing, and held positions at leading global companies, has implemented a unique scientific approach in the process of evaluation of target audience expectations to Nestlé and the 2-nd largest Brazilian cosmetic company O Boticário.
She has also worked out the Brilliant Basics Advertising Framework that helped global leaders improve their approaches. Today, Camila Rocca tells us about her marketing innovations.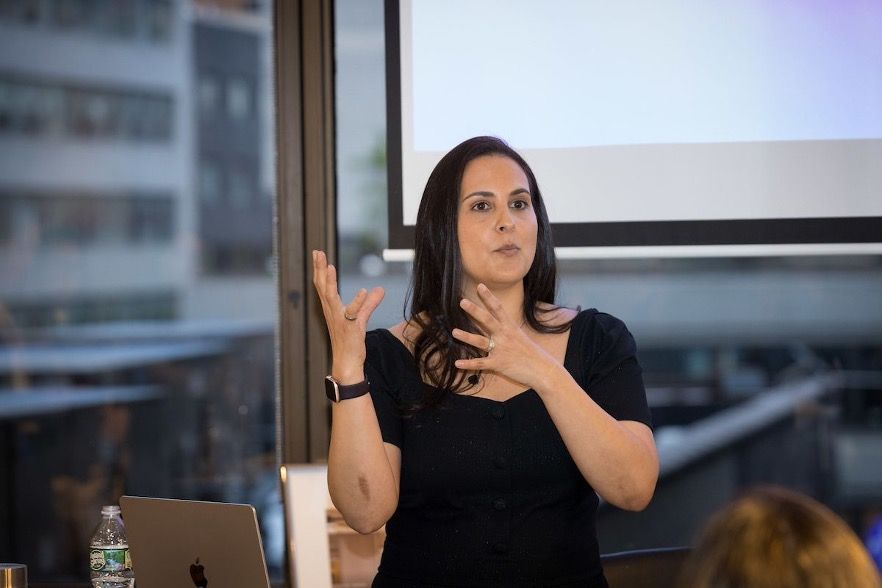 Camila, you have developed an original, unique methodology called "Digital Interfaces' Creative Processes: The User as Protagonist", which aims to understand consumer behavior and craft effective marketing strategies. Could you please tell us a few words about the scientific foundation for this solution?
Yes, I could. This methodology focuses on placing the consumer at the heart of the planning process, ensuring a deep understanding of their needs, desires, and preferences. This solution was the first that has taken innovative user-driven technology methodologies and mixed them with traditional consumer insights methodologies to create and apply them to marketing strategies with a consumer-centric and design thinking approach. This approach was really disruptive at that time and my academic production helped turn it into common knowledge in the marketing field. 
Also Read: Why Technology Has Become An Integral Aspect Of Digital Marketing?
Your methodology has played an important role for Nestlé. Could you tell more specifically, what results the company achieved with it?
In the case of Nestlé, my methodology played a pivotal role in the planning and development of a new web portal. By conducting thorough research, employing user-centric design principles, and facilitating cross-functional collaboration, I ensured that the final product exceeded the client's expectations. The user-friendly interface and seamless navigation led to increased engagement, ultimately fostering brand loyalty and driving sales. As a result, Nestlé achieved top-of-mind awareness on the internet in both 2010 and 2011, as evidenced by the Top of Mind research conducted by UOL (Universo Online, Brazil's largest internet media company).
Achieving success with Nestlé, you decided to expand your scientific approach to O Boticário. How did you implement your methodology in this campaign? 
Yes. Building on the success of the Nestlé project, I have further applied my methodology to the O Boticário "Men" campaign. Recognizing the growing market for male grooming products, I delved into understanding the unique mindset and preferences of the male audience. Through semiotic analysis, extensive research, and ethnographic studies, I unearthed valuable insights that shaped the campaign's messaging and positioning. The campaign successfully challenged stereotypes and established O Boticário as a leading brand in the male beauty industry.
The exceptional results achieved through my methodology have not gone unnoticed. The O Boticário "Homens" campaign was honored with three prestigious prizes at the Effie Awards Brazil in 2016. These included the esteemed Grand Effie Award, as well as two Gold Effies for retail and communication strategy. The Effie Awards recognize the most effective marketing campaigns worldwide, and winning such accolades is a testament to the campaign's profound impact and exceptional performance.
Your results are impressive. Could you give the exact numbers, like the growth of a turnover?
The MEN product line outperformed expectations, with an 82% turnover of its inventory, surpassing the set target. This achievement is particularly significant when considering the challenge of launching a product line with a large number of items. MEN exceeded the average turnover rate of 57% for established male perfume campaigns from the previous year. Consequently, sales soared, with the MEN line quadrupling its revenue representation for O Boticário, jumping from the 24th to the 5th best-selling brand.
Were there any other positive results of the implementation of your solution, except sales growth?
Certainly. The brand's health-related items exhibited exceptional response rates, surpassing objectives across various metrics. Among men, there was a 20% increase in top-of-mind recognition, a 9% rise in preference, and a 10% boost in habitual use. Qualitative research confirmed that the campaign resonated with the target audience, as men identified with the MEN proposition and appreciated its humorous tone.
The campaign successfully engaged the target audience in the digital realm. O Boticário experienced a 36% increase in online conversations compared to the previous campaign ("Mother's  Day campaign). Moreover, the Facebook page saw a 5.9% rise in male followers, outperforming the average growth rate of 1.2% before the campaign. Actions targeted at the existing customer base yielded excellent returns, boasting an impressive 1465% return on investment (ROI).
No doubt, that through the case studies of Nestlé and the O Boticário Men campaign, you have successfully demonstrated your expertise and the transformative impact of your approach. Your methodology concerned studying users' expectations. Later, you developed a new marketing solution, but it was related to effective launch management. Is it correct?
Yes, it is. I played a pivotal role in developing the Brilliant Basics Advertising Framework. This comprehensive global go-to-market / launch framework drove incredible impact within a short period across four regions: North America, Asia Pacific, Latin America, and Europe. This initiative facilitated closer collaboration with sales teams, enabling direct feedback and action on blockers and conflicts.
The Brilliant Basics Advertising Framework received widespread recognition from clients. Could you describe in detail how it was useful for the industry?
Yes, The Brilliant Basics Advertising Framework received widespread recognition from clients such as Nestlé and P&G, and the biggest Global Advertising Agencies Holding Companies such as GroupM (from WPP Holding Group) – GroupM is the world's leading media investment company responsible for more than $63 billion in annual media investment. 
The framework's global launch online event had 524 live attendees. In its first 10 days, my framework was downloaded 632 from the Global Marketing Solutions Meta's Online Hub – indexing 2x-3x engagement vs. the average of materials published.
The framework provided clear and insightful analyses, aligning with their internal assessments and evolving needs. The framework's success led to positive feedback and the establishment of trustful relationships with stakeholders across regions. A whitepaper published by GroupM Business Science proved that the Brilliant Basics framework can considerably improve the ROI of their Facebook media investments by as much as 43% if adhering to its best practices. All of this is in a segment that represents a $3 Billion Dollars revenue.
Also Read: Tools the Internet and Social Media Have Brought to Businesses
Based on your framework, what advice can you give our website visitors, and readers who work in marketing? 
Each marketing team has an objective to establish the campaign and to perform its optimization successfully. After multiple studies by Nielsen on their Marketing Mix model, they established that the best frequency that can be handled by a campaign delivery should be 1.5 – 2.0 per week. Therefore, we must always establish the deliveries in all advertising placements, however here we must emphasize the locations and the adaptation of the content of the audiences; making parts that meet good delivery criteria at all locations; preventing the brand from delivering an ad in a location without carrying out its proper content optimization.
To achieve an increase in the impact of sales on the total audience of the campaign, it is recommended to reach 11-20% of your target audience.
Remind yourselves of the importance of campaign delivery continuity, generating a consistent digital presence throughout the year.
Use broad audiences with campaigns by setting up to 3 ad groups to compare campaign delivery; It is recommended to use 2 maximum interests within the campaigns.
Our Brilliants Basics  guide looks for:
Increase ROAS (Return On Ads Spend) on Offline channels
Increase brand recognition
Optimize the delivery of your client's ads.
Prioritizing optimization after advertisement delivery will allow you to connect to the right audiences. Good luck with your launch!
Author: John Davis